What is DMAIC?
DMAIC is a five-step data driven quality improvement approach. The five steps in DMAIC process are:
1. Define
2. Measure
3. Analyze
Related: Dmaic
4. Improve
5. Control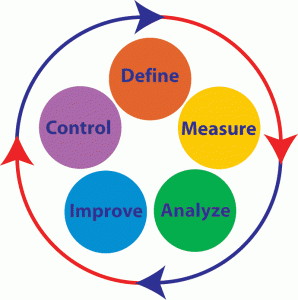 DMAIC is a disciplined quality management approach which uses tools and data for making informed decisions. Management makes decisions to pursue projects with maximum payoff for the organization.
1. Define
The define phase establishes the objective for improving the processes, methods, procedures, standards, products, services, etc. This is a clear and well defined purpose of the quality management project. The objective is made based on customer analysis, process analysis, and overall quality assessment. Next, the quality gaps are identified between actual and target performances and quantified using both operational and financial metrics. After that the team is formed who will lead and implement the project. The deliverables in this stage are project charter with problem/opportunity statement, goal/objective statement, team member roles, timeline, tools, methods, and guidelines.
2. Measure
The measure phase starts with understanding the issues, assumptions, and problems and serves to collect data for measurement for analysis and identifying causes of problems and areas for improvement. In most cases the current process flowchart is developed and data is collected to show the actual/current quality metrics such as KPIs and sigma levels.
3. Analyze
The analyze phase works with the data collected during the DMAIC measure phase.   The main objective in this phase is analyzing data and identifying causes of quality problems and measuring their operational and financial impact. The deliverables are list of quality causes, cost benefit analysis, and detailed process analysis with recommendations.
4. Improve
The improve phase implements solutions for improvement by working on the issues defined in the previous stage. The improvement considers all organizational, operational, and financial issues and implements solutions with maximum overall payoff.
5. Control
The control phase controls process performances by using quality management tools and methods and continuously reports quality performances.
Additional Resources: